On the February 19th program, Eddie and Margaret will be joined by Hillary Brown and Michel Guicheney, both Harm Reductionists from Steady Collective.
The Steady Collective is dedicated to promoting the wellness of people who use drugs through empowerment and respectful collaboration. Their goal is to improve overall community health by reducing the rate of drug overdose and the spread of infectious disease with education, advocacy, and direct services.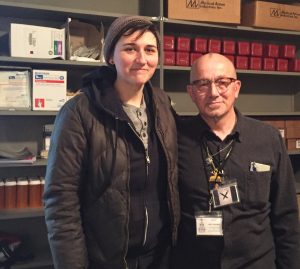 Hillary Brown is a founding board member of Steady Collective. In addition to working for Steady, Hillary organizes locally for police accountability.
Michel Guicheney
is a person in long term recovery born in France 1959. Michel started using IV drugs at 19 while living in Paris with pure hell and chaos taking over the next 15 years.During this time he contracted all hepatitis A,B and C due to no free access to clean needles in the 80s in France. That changed in the 90s when a law required pharmacist to sell needles without a prescription. Michel arrived in Asheville in 2005 and has been in recovery since soon after, though he has undergone numerous major health challenges since including Stage 4 Cyrhosis, liver cancer, a liver transplant, dialysis, and was given up for dead by doctors. Once his health stabilized, Michel decided to volunteer at the needle exchange at 
Western North Carolina AIDS Project
where he met Hillary, Conner and Peggy, and Steady Collective was born.