On our March 12th program, Eddie and Margaret will be joined by psychotherapist Hillary Bolter.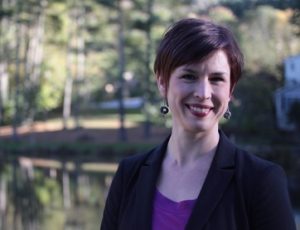 Hillary Bolter, LCSW, LCAS, graduated from UNC-Chapel Hill School of Social Work and is dually licensed by the NC Social Work Board  as a Licensed Clinical Social Worker (LCSW), and the NC Substance Abuse Professional Standards Board as a Licensed Clinical Addiction Counselor (LCAS).  She has been a member of the Motivational Interviewing Network of Trainers (MINT) since 2011. Hillary splits her time between training individuals and organizations in MI, and seeing clients in her private practice in Asheville.
Motivational Interviewing is a conversation style that helps people connect more deeply to the change they need to make. It is a helpful skill to talk with clients about internal or external changes they want to make, including decreasing or quitting use of a substance, increasing health behaviors, considering the importance of giving space for grief, forgiveness, and mindfulness.