On our May 22nd program, Eddie and Margaret will be joined by therapist and story teller Levi Gardner.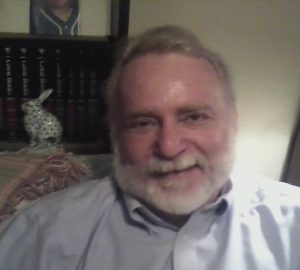 Levi Gardner is a 2009 graduate of the Lenoir-Rhyne agency counseling program. Before that, he graduated with distinction from UNC-Asheville with a degree in literature and writing. A native North Carolinian, he spent 12 years of his life in Williamsburg and Norfolk Virginia as a bar and restaurant manager. Levi attributes much of his understanding of story telling and narrative to the many zany and tragic stories he was privy to as a young man fond of drink and riotous companionship.
Much calmer and more sober since his mid-20s, he considers himself and his life to have what he would call a religious or spiritual quality to them.All of Levi's three siblings and his mother are alive and well, and would have we are sure, their own stories to tell about this lover of myth, poetry and the symbolic life. His son is currently turning 30, and that is a story for whose gratitude and joy he is endlessly grateful. Levi has been helping addicts recover from their state for over three decades, another happy story of hard work and daily perseverance.
"It is never too late, in fiction or in life, to revise." by Nancy Thayer is one of his favorite quotes.